Due to a technical problem we are currently only available to a limited extent by telephone. We are working on a solution and ask you to contact us for the time being only by e-mail to info@get-e-right.de. Thank you!
Welcome to get-e-right
get-e-right GmbH is an affiliate company of take-e-way GmbH to take over the responsibility of an authorised representative for WEEE in Germany.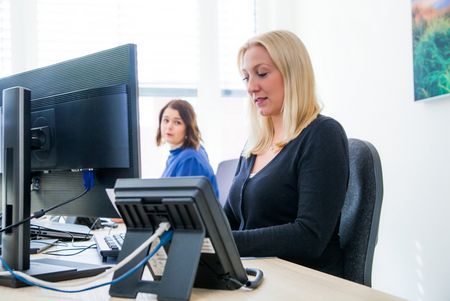 Contact us
Our consulting team is happy to help you with regards to any questions concerning the WEEE authorized representative.
get-e-right is your contact person and service provider for all aspects relating to authorisation pursuant to the Electrical and Electronic Equipment Act and the Product Safety Act in Germany
On the initiative of the VERE Association and take-e-way GmbH, a new service company was established in January 2015: The firm get-e-right GmbH provides for foreign manufacturers without a German branch office the mandatory WEEE authorised representative in Germany, thereby adapting the services of take-e-way to the statutory requirements of the new Electrical and Electronic Equipment Act (ElektroG). In addition, get-e-right GmbH now also offers manufacturers the authorisation under the ProdSG for Germany.
On this page you will find out everything you need to know about your personal solution for the WEEE authorised representative pursuant to the ElektroG (Electrical and Electronic Equipment Act), the authorised representative under the ProdSG (Product Safety Act) in Germany and about the solution we offer you for WEEE, electronic equipment, batteries and packaging, both in Germany and for all 28 EU countries.
Learn more about our service for the WEEE authorised representative in the following video >>
You might also be interested in...
Full service for nearly 40% of all WEEE registered companies (in the field of B2C) in Germany
WEEE full service for all 28 EU countries incl. batteries & packaging
EU-wide quantity reporting for WEEE, batteries & packaging, very easy via online platform
ElektroG take-back system for retail and online dealers
Offering & finding registered products according to ElektroG, BattG & VerpackV
Representation of political interests for SMEs
Free Advise and Consulting
You can reach us from Monday to Thursday between 8 am and 6 pm and on Friday between 8 am and 5 pm. Just give us a call!